Jerald Verne Ferguson was born in Oregon City, Oregon, on August 5, 1940. He was the second of the three children of Charles Gatlin Ferguson and Theresa Verna Minor (siblings charleen and David). He graduated from Butte Falls High School in 1959 where he participated in baseball and basketball. Jerry attended Southern Oregon College from 1959 to 1960. He served in the military and was stationed at Fort Lewis, Washington and Fort Leonard Wood, Missouri, serving as a cook. Jerry and Linda Lou Webster were married on June 9, 1962 in Reno, Nevada. They reared two sons: Brent Louis and Jared David. Jerry worked for the U.S. Forest Service in the Butte Falls Ranger District, clearing trails until he was hired by Medford Corporation in 1962. He started as a choker setter, then became a "cat skinner", a log scaler and eventually a timber faller. In 1992, after attending truck driving school, he worked for Ron Hailicka, Inc, driving a dump truck until he retired in 2006.

Jerry was an active member of the Butte Falls community. He served on the city council and for 12 years was a member of the District 91 School Board. He enjoyed camping and hunting. His favorite hobby was woodcarving and his family proudly displays many of his creations, one of which is displayed on the right. He used wood inlays rather than paint to achieve shading such as in the owl's eyes.

Linda passed away in 2002 and Jerry followed August 3, 2008, at his home in Butte Falls. He was buried along with Linda in Hillcrest Memorial Gardens in Medford, Oregon, where the headstone shown below can be viewed. His newspaper obituary is available in our library and can be ordered through the Obituaries link.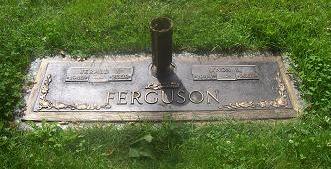 This memorial page was sponsored by Warren and Charleen Ferguson Brown.

Return to Memorials Page